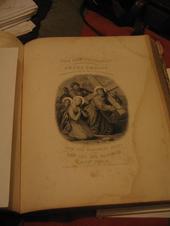 New Testament Section
Lady Mary Carroll "Robbin" Bower recieves the Carroll Bible dated 1852 from Mary Krause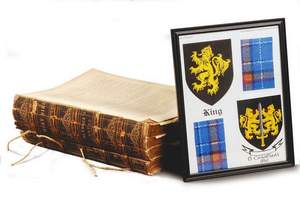 The Carroll Bible comes home, dated 1842
includes entries on Darnall family, Carroll Family and King family, Thomas King Carroll, Gov. of Maryland at Kingston Hall
6 pages of entries form Archbishops and Bishops of the Catholic Church, Letters from Pope Pius IX, and Pope Pius IV, Haydocks Catholic Bible with all his notes and Latin Vulgate translation.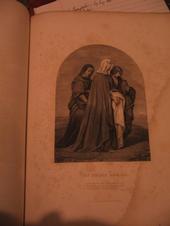 The Three Marys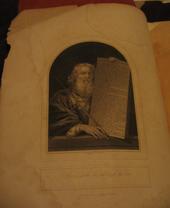 Moses and the Commandents
Mary Carroll Bower, Clan Cian, Midwest
This site is a collection of information from genealogical research and historical information regarding my 5th Great Uncle Charles Carroll of Carrollton, my 4th Great cousin Anna Ella Carroll, The Lady General, his neice and all the Carroll Clan from Clan Cian. For joining in on chats and information regarding events etc. , please go to my personal MY SPACE at.
www.myspace.com/clancian
, Feel free to join in as a friend or Carroll family member. Also all affilated surnames are available at
www.clancian-carroll.com
, and you are welcome also as an affilate family member at my MYSPACE.
We are currently excepting information from the Kentucky O'Carroll's and Carrolls, to the Jesse James Family for filing in our Documentary about Jesse James and Bronaugh, Mo. All info is welcome. Please email or visit my myspace.
Also looking for historical information and memorabilia of Charles Carroll, or the O'Carrolls from Ireland, Anna Ella Carroll , and American Carroll (O'Carroll families ) to be housed in our Carroll Research Museum underway. You can contact me about Donations of pictures, family items etc.
Happy Visitation, and may your road be made safe back home....
lady Mary Carroll-Bower of Ely O'Carroll
We are related to most European thrones and to the Royal Family of England by intermarriage. We fought them, hated them, loved them, and did it over and over again...You can visit Queen Elizabeth II, by going to my website and clicking on her picture. She has been ever kind to me in my life during times of trouble...You can also find the lineage to her and the Princes of Ely by going to my myspace blog section. You can click on blogs and older blogs...
Letters of approbation from all the Catholic Bishops and letters from Pope Piux IX and VI
lADY MARY CARROLL-BOWER
CLAN CIAN-MIDWEST REP.
SPRINGFIELD, MO.
April Fool's day, April 1st, 2006
Mary Carroll-Bower and Our kin,
Ed McMahon, STAR SEARCH
CHARLES CARROLL, SIGNOR Declaration of Independence
CHARLES CARROLL ADDRESS ON AMERICAN DECLARATION OF INDEPENDENCE AT CLAN CIAN, WWW.clancian-carroll.com
O'CARROLL/CARROLL FAMILY FOUNDATION, HISTORICAL SOCIETY AND MUSEUM COLLECTION

Our family Coat of Arms Pin in gold-plate is now available to surname family members for $125.00 The Arms bear two Gold rampant lions
representing the King and Tanist holding the Golden sword between them, most likely the Majic Sword of Ely.
Also available are Coat of Arms Blankets and Pillow Cases embroidery
with the Lions. retail: $65 set
Airbrush Carroll/O'Carroll Coat of Arms Tees: $20
Airbrush Carroll/O'Carroll cap $15
Set of White/Gold towels with embroidery O'Carroll Coat of Arms
(Gold lions) $50.00
Coat of Arms etched glasses and goblet sets. $75
Coat of Arms etched Mirror $45
Surname Etched glass and goblet sets $65
Etched with your family associated name and Clan Cian on back. -
Coming soon much more and our Irish line of Jewelry!
OUR ROYAL FAMILY LINES:
I have recently been contacted by many family lines, including the Parkers, the MacTavishs, The Kings, the Graces, the Fergusons, the Carroll/Colliers and am so happy that you found us. We can trace all of the lines back to our Carroll lines and hope that if you wish to contribute information, pictures, family personal items, from the Carroll lines or any of your descendant lines we would be most grateful to enter these into our Production work on the family Movie in the making: WAR TORN, THE CHARLES CARROLL FAMILY, written by myself, Mary Carroll-Bower.
Yes our family line is intermarried with the thrones of most nations, including England Royal, through the Wellesleys, Butlers, Bower (Bowes) and Lyon . Queen Elizabeths name is Elizabeth Bowes-Lyon
The Lyon comes to my children from my Father's side as well as thier Father's side, the Bowes comes from my Father's side, and the Wellesley-Butlers comes through my Mother's line of the O'Carrolls.
Our King/Grace lines come from intermarriage with Sir Robert King line, Rufus King Line, Sir Richard King line, and Sir Robert Grace. These lines also extent through Charles Carroll, Signor, to the Catons and Calvert Families of Maryland. You may request to add your family name below if you are intermarried with the O'Carroll line in any way or by bloodline....
In Texas/Maryland/New York/England/Ireland/ Wales/North Carolina/Kentucky/Louisiana, our family surname lists are as follows:
Atkinson
Anderson
Archibald
Barney-Bernier-Lalonde
Bonaparte
Bower
Bowes
Bauer
Beckham
Bronaugh
Brent
Brooke
Brook
Brock
Block
Burke
Bush
Busby
Campbell
Carroll's
O'Carroll's
Caton
Chew
Collier
Conner
Connery
Cotton
Cowan
Darnell
Eire-Eyre
England
Evans
Forbes/Wayland
Gore
Harpers
Hammer
Hardin
Hill
Howard
Fergusons
Floyd
Flores
Ford
Gardner
Goodloe
Grayson
Greene
Hancock
Harper
Hunt
Jacob
Jackson
James
Johnson
Kelly
Kennedy
Key
Lee
Lincoln
Locke
Lyon
Mather
McMahon
McDonald
McTavish
McCarthy
Mercer
Mims
Mimms
Miller
Moore
O'Brien
Bryan
O'More
Neville
Nevil
Nicholas
Parker
Patterson
Plantagenet
Pope
Prather
Presley, Presslars
Rivers
Richards
Robb
Robison
Robinson
Roberts-Robertson
Rooney
Roosa
Rountree
Rothschild
Saffell
Shannon
Shivers
Steven
Stuart-Stewart
Summers
Taylor
Thompson
Todd
Tubb
Turman
Underwood
Walker
Ward
Wayland
Washington
Wellesley
Williams
Wilcox
Young
Younger
For a complete list of O'Carroll-Carroll connections and surnames see
If you think you have a family connection or surname to add to the list, please let us hear from you or check out surname list at Clan Cian.

A must see: NATIONAL TREASURE, starring Nick Cage, about a secret message in invisible ink on the back of the Declaration of Independence. Portrayal of our ancestor Charles Carroll and his
dying wish to turn over the information of the secret treasure.
NEW BOOK RELEASED: THE LIFE, TIMES & WRITINGS OF ANNA ELLA CARROLL 1815-1894 by Author KAY LARSON
Book can be purchased from Barnes and Nobles, and Xlibris.
The true and compelling story as written by Kay Larson of the Life of Anna Ella Carroll and her efforts with Lincoln and the Generals in the time of the
Civil War. Her efforts for recognition denied her for the drafting of the plans she engineered. A story needing to be told. Much appreciation to Kay Larson in her time consuming efforts to have Anna Ella Carroll's story told as never before!
Lady Mary Carroll-Bower
Descendant of the King-Carroll line
CARROLL WAR TORN BOOK AND PLANNED MOVIE
PRINCES OF IRELAND,CLICK HERE TO READ EXCERPTS FROM THE NEW BOOK!
OUR ROYAL ROOTS AND EXTENSIONS:

My name is Mary Carroll-Bower, and I come from the illustrious Ely O'Carroll Clan from Tipperary, Ireland.

They started out as Kings and Princes, and became Barons and Lords:

My line descends from Sir Richard Grace, and from Sir Robert King to Henry Carroll and Mary Barnes, to Thomas King Carroll as well as his Uncle Charles Carroll of Carrollton the last survivor who signed the Declaration of Independence.

Our family left Ireland and settled in Texas. The KING-CARROLL FAMILIES, again remarried in my line, in Texas. For over a hundred years, I lost my Carroll family that descended from the Ely O'Carroll line. Now we have been found! BENT BUT NOT BROKEN, and forever home! A happy ending!

If your looking for genealogy on these lines, or just great reading, there are some excellent Books out now, including our families. The Latest being, PRINCES OF IRELAND, PLANTERS OF MARYLAND,a Carroll Saga. This book includes the family genealogy from Anthony to Charles Carroll, and the story of the Father and son, and an impossible but true empire they built in the New Land, America. It's a strange story to hear common names among friends, such as: George Washington, who greatly admired one of the Carroll grandaughters, Benjamin Franklin, Robert Goodloe Harper, son-in-law to Charles Carroll, John Carroll, Archbishop.

Thomas King Carroll,was Govenor of Maryland, and Abraham Lincoln, lived on the backland close to Carroll land in Kentucky. He would become the friend of the daughter, Anna Ella Carroll. Thomas King Carroll's brother Cecil, was named after Lord Baltimore,Calvert, and as a child he often rode in the horse coach that had the coat of arms of both the Carroll-Calverts on each door.

It was Daniel Carroll of Duddington, along with the Rozier -Young families, that sold to the newly formed government, the Land that the WHITEHOUSE, our Capital Building was built on, and today stands on.
Charles Carroll of Carrollton was the oldest and last survivor who signed the Declaration of Independence. It was Charles Carroll who incited the War of Independence, and it was Queen Elizabeth who made him the most wanted man in America. Yet he boldly signed what he believed in equality for all men and freedom., by signing his full name Charles Carroll of Carrollton, which told where he could be found.
Later his grandaughters, "The Lady Graces" would marry back into the Royal English line, through Duke Wellington's brother Richard Wellesley, to the Queen Elizabeth's Mother, the Queen Mum, and we would forever again become cousins. The granddaughters becoming LADY MCTAVISH, LADY STAFFORD, DUCHESS OF LEEDS, AND MARCHIONESS OF WELLESLEY.

Another book on the King-Carroll line is an old one by the title of: ANNA ELLA CARROLL AND ABRAHAM LINCOLN. This story lists the genealogy of the King-Carroll line to the Stevenson line, the Catons, Harpers, and tells of the Grand meetings with the Charles Carroll cousin lines. For many years these two families remained indifferent, over Politics and Religion to each other, until "Charley"
was born.

Notes are mentioned about Francis Scott Key, who wrote, THE STAR SPANGLED BANNER, and worked in the Carroll Law Firm. It's a heart felt story of a determined family. A family that I saw the same determination in, as a child growing up under their shadows. A family that you loved to be loved by, and hated to be disliked by. A strong and devoted family, who loved God and their country. Francis Jenkins, Henry Clay, and John Hampton, all intergrated into our family. Anna Ella Carroll knew General Grant personally as well as many other military leaders of the day., for much was written of her, "THE LADY WAS A GENERAL!" and "DEAR LADY" as Abraham Lincoln referred to her.

Then the latest is ERIN'S BLOOD ROYAL. This book lists the dynastic families of Ireland and their backgrounds. It makes for interesting reading. Our own dear Chief Elie O'Carroll is pictured in that book.

Of course I am still working on one, WAR TORN, THE CARROLL FAMILY, about my own lines of the family, and what their differences were Politically, and Religiously that kept them apart, but their love, always brought them full circle again. A true story of a family divided by North and South, loyalty to Ireland, and loyalty to America. The Carroll name, Charles Carroll the forbearer, leaves it's legacy on many towns and counties in the U.S. from North to South. Carroll Contributions to our book are most welcome.
Any family members from any of our lines, feel free to contact me. Also any inquiries will be answered as soon as possible.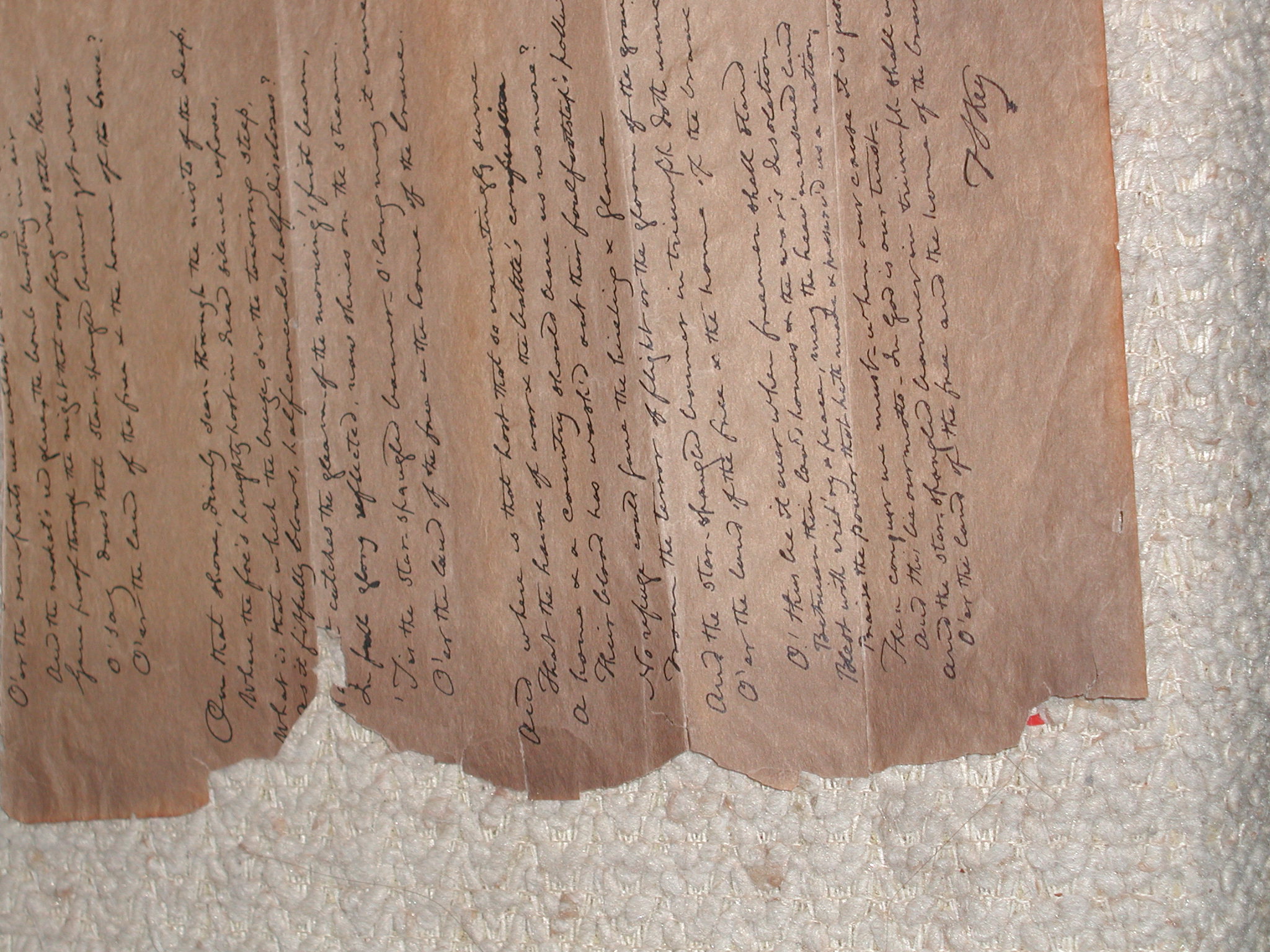 Handwritten copy of original America's National Anthem signed by Frances Scott Key, who worked as a Lawyer in the Carroll Firm in Baltimore and was related to the Carroll's. Owned by Mary Carroll-Bower
Sister Mary Carroll, known as Sister Mary Austin founder Sisters of Mercy
mentioned below in the Carroll Bible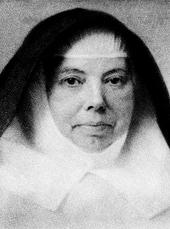 Sister Mary Carroll entered here in bible.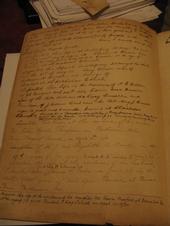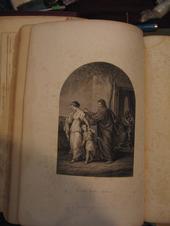 Hagar and Isthmaeil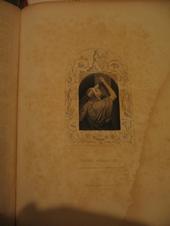 Mary Magdalene on loan from Vatican
Charles Carroll's relatives and grandaughters married into English royals by way of the Butlers and Platagenets. One Carroll-Caton grandaughter became Marchioness of Wellesley, another became Duchess of Leeds, another, Lady Stafford, and another Lady McTavish. Our family line extents to the McNamaras, the McMahons, the Stewart-Stuarts, Parkers, Graces, Calverts, Kennedy and Kellys, and the Forbes, only to mention a few... The story in Texas extents to the Parker clan whose daughter Cynthia was kidnapped by Peta Nacona, Chief of the Comanches. By him she had the child who would become the last Comanche Chief, Quanah Parker. My great-great-great Aunt Carroll was hiding in a clothes trunk that day at Ft. Parker where the Indian Raid took place. Their son became John Parker Carroll. Cynthia Ann was only recognised by her blue eyes that gave way to the Texas Rangers believing her to be the captured white woman. Cynthia was recaptured back by the Texas Rangers, of whom my great grandfather was one of. Cynthia Ann died of a broken heart for her children and husband of the Indian Nation. Each year as a child I had my family reunions at Ft. Parker in Texas, and visited the rooms of the old fort and the log bunks that they slept in. For me it had special meaning.
About the President, Mary Carroll-Bower
Email Me: marbme12@yahoo.com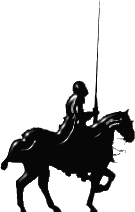 CHARLES CARROLL "FIRST CITIZEN" and EVERYDAY HERO AWARDS.
TO KINNITTY IN ELY O'CARROLL COUNTY
QUANAH PARKER LAST COMANCHE CHIEF, PORTRAIT
MORE QUANAH PARKER, COMANCHE CHIEF
ANNA ELLA CARROLL, DAUGHTER OF MARYLAND GOVENOR, THOMAS KING CARROLL AND GRAND NIECE OF CHARLES CARROLL OF CARROLLTON

OUR HAUNTED CASTLE OF OLD, LEAP CASTLE!
What's New?

Many new and adventurous things in my life. I am President of the National Toxic Mold Coalition and Foundation, The Carroll Foundation.

We are working on a book about the Carroll's as well as a documentary movie. Any ideas, notes, photos, or family stories are welcome. The title is WAR TORN, THE CARROLL FAMILY.
Send your Carroll family news here!
Please get in touch with any comments.